'round back
Pentax K10D, Pentax SMC-A 50mm f/1.7 (manual focus), ISO 100, f/8, 30 sec, +/-0 EV, IS off
Taken in an alley behind an apartment building on Historic Highland Avenue in Birmingham, AL. I was drawn to the combination of lighting (sodium vapor and mercury vapor), the texture of the brick and the arrangement of the trash cans. This photo was taken with my Pentax K10D and my old manual focus 50mm f/1.7 lens on a Joby Gorillapod. I set the camera to manual mode, selected ISO 100 (for minimum noise), Auto white balance, 30 second shutter (maximum shutter time in manual mode), f/8 aperture (for maximum sharpness), and set the self timer to the 2 second delay position (to eliminate camera shake when the shutter opens). I manually set the focus at infinity and didn't bother checking the light meter reading. Since I shoot these shots with the long exposure noise reduction turned off, I was able to review the shot immediately and saw that it was good on the first try. The alley was a lot darker and creepier than this photo suggests so after one shot I grabbed up my camera and kept moving…
Once back home, I dumped my RAW files into Adobe Lightroom where I sorted through my shots and selected this one to post. I played around a bit with the white balance but found the as-shot auto setting did the best job of capturing the variability of the two competing light sources. I bumped up the exposure a bit to brighten the shot. This was easy to do without introducing too much noise since I had taken the shot at ISO 100 (which gives more leeway for adjustments in post-processing). Had I shot at ISO 400 or above I would have had to make sure I got the exposure right in-camera as any tweaking would have introduced too much noise.
Here's the same shot with the white balance adjusted to compensate for the orange cast of the sodium vapor lighting in the alley (I clicked the WB eye dropper on the neutral colored stone work on the brick wall in the foreground):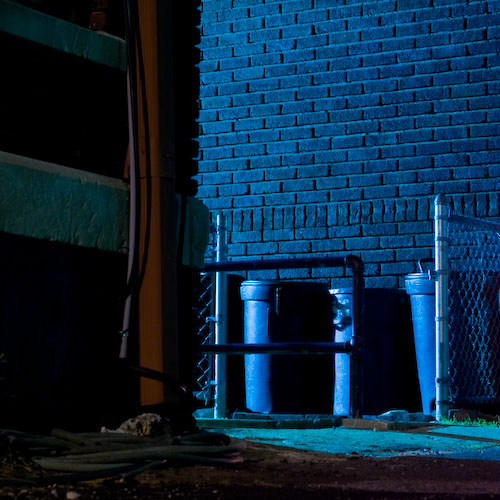 I use this technique a lot for long exposure urban night shots. Usually I only adjust the aperture between f/4 to f/16 or so to dial in the exposure for varying lighting conditions. Using a Gorillapod means I can easily carry the whole rig around and set it on sidewalks, streets, walls, etc. or quickly wrap it around a railing or sign post. I like to keep moving with a purposeful walk. Anyone I encounter on the streets I look square in the eyes and greet confidently. This tends to discourage too much unwanted conversation and draws attention away from my fancy camera. Using my little 50mm lens also helps to make the camera seem less significant to anyone that might be having unscrupulous thoughts.
Here are a few more photos from last night shot using the same technique: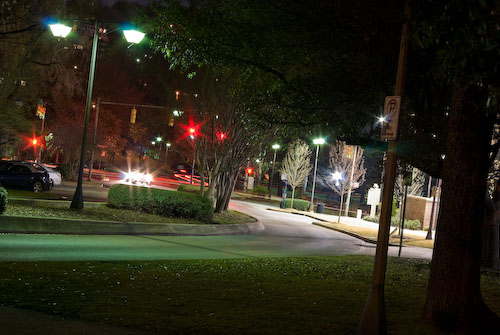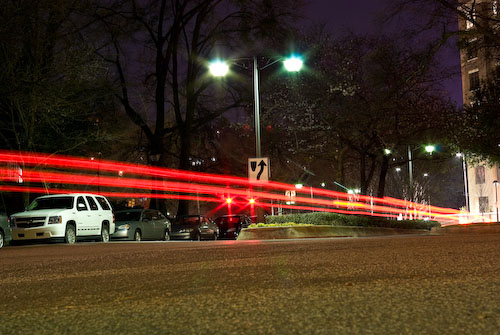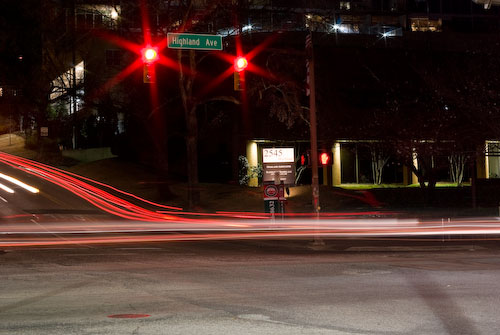 Nothing really amazing here but I only spent about 10 minutes walking around this one block and snapping about a half dozen or so exposures. Using the same technique I've gotten much better results with not much more effort by just scouting better locations. Practice like this then when you come across those great scenes you'll be ready to go with a minimum of fumbling around!