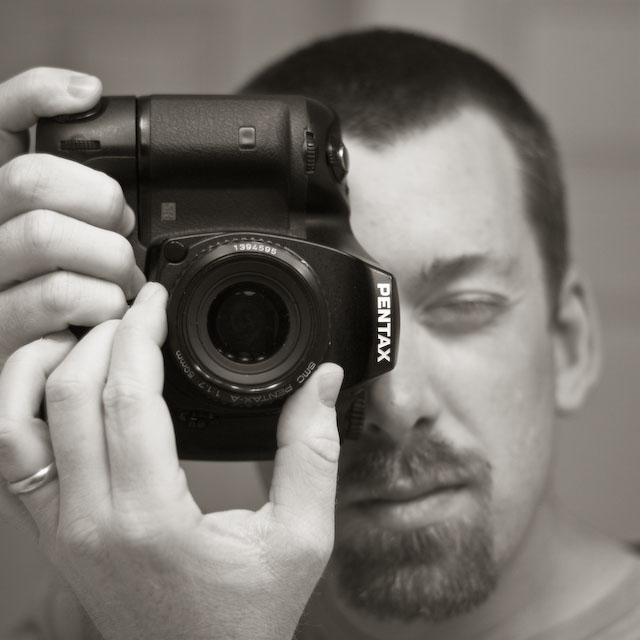 My name is Robert S. Donovan. (I use the "S" because it seems there's another Robert Donovan out there with a bit of a more "colorful" history.) I'm an industrial designer (say "product designer") by trade currently living in Auburn, Alabama with my wife and three daughters. Most recently I served as the VP of Design and Marketing for Griffin Technology in Nashville, TN (the world's largest iPod accessory brand). I have spent the last 15 years designing high tech products and exhibits and have recently returned to school full-time to finish my undergraduate degree. What's next for me? That's what I'm trying to figure out. You can read more about all that on my personal blog.
Photography has been a passion of mine since I got my first Pentax K1000 in high school. I have found the camera to be both a creative outlet and an invaluable tool for my work. I joined Flickr in October, 2007 at the insistence of one of my friends. Since then I have learned a tremendous amount from all of my friends in the Flickr community. As a result of their generosity I have seen the quality of my photography dramatically increase. Even though I take upwards of a thousand photos a month I continue to learn with every click of the shutter.
I decided to create this website as a place where I could give back to the photographic community by sharing the thoughts and the techniques behind my photography. As a self confessed gadget geek there will likely be a fair amount of discussion about the tools of the modern photographer. Beyond that I'll do a little experimentation and we can see what sticks. I'm pretty new to this blogging thing so your input is always welcome and I encourage discussion in the comments.
Presently I am shooting with a Pentax K10D + battery grip with an 18-55 f/3.5-5.6 SMC DA "kit lens", a 20 year old Pentax-A 50mm f/1.7 SMC manual focus lens, and equally as old Takumar 135mm f/2.5 lens, and a brand new Pentax FA 35mm f/2 lens. I also have a Panasonic Lumix DMC-FX07 pocket camera. Over the years I have owned a Canon 5D, Canon Rebel XT (350D), Olympus E-10, a Nikon 990 (my first digital camera), and a slew of pocket cameras. Prior to going digital I shot a Nikon N70, a Minolta Maxxum 7000i and that Pentax K1000 that got it all started. I use an Apple MacBook Pro running Adobe Lightroom 2 and Photoshop CS3.
Thanks for stopping by. I hope you enjoy my blog. If you do please come back! Also, take a minute to visit my sponsors to help support this effort. If you don't like what you see I would appreciate any constructive feedback you care to share. Feel free to contact me via e-mail: robert@booleansplit.com
My other sites:

What's in my bag:


(click over to my Flickr page for a detailed list)