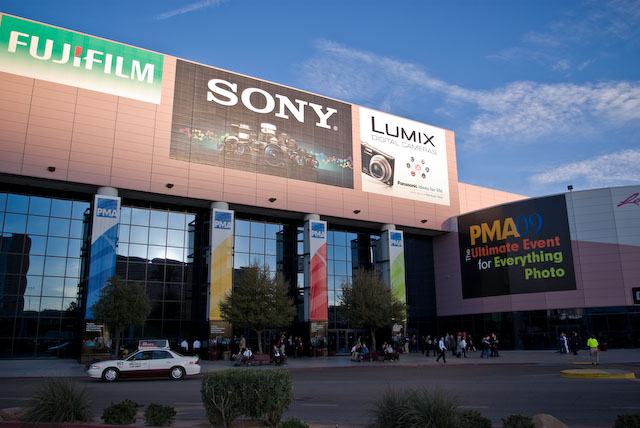 Day one of the annual PMA show is in the books and as promised here are my interesting product picks with comments. Hopefully I will have some additional in-depth reviews of a few of these items in coming weeks.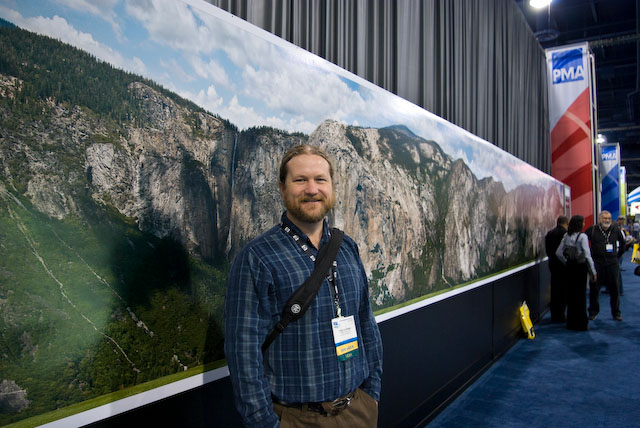 Prior to the show opening I headed up to the press center to pick up a lanyard for my badge and check things out. Outside of the press center I ran across Greg Downing from xRez standing in front of an awesome panorama of Yosemite valley that he helped create. Rather than try and explain what's going on here I suggest you hit the xRez site and check it out for yourself. Very cool stuff.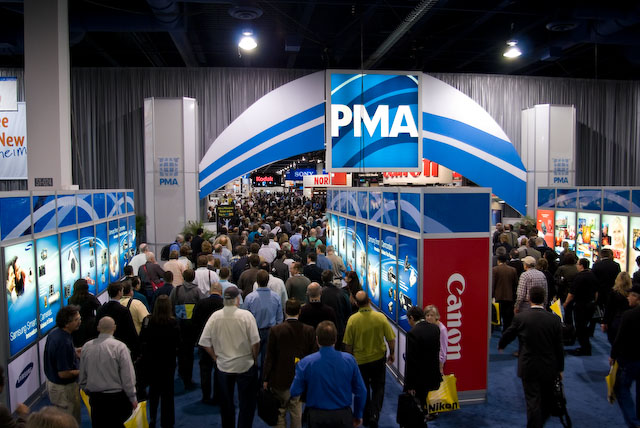 The show opens to a pretty good crowd. I'm used to bigger shows (CES, for example) so this seems a bit tame to me. The show is contained within the two floors of the South Hall of the LVCC. CES, for example, uses the entire LVCC + the Sands Expo Center.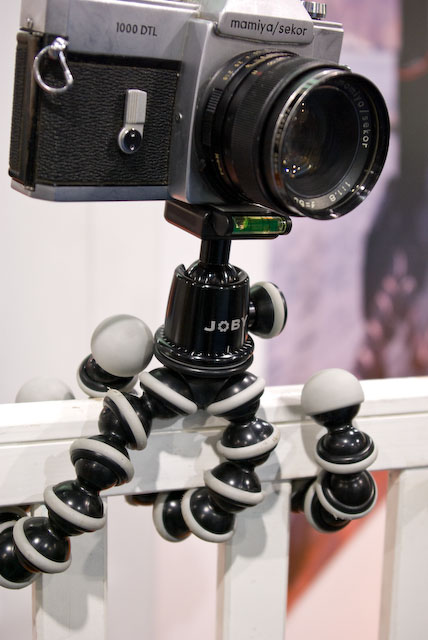 Joby has added a much needed ball head with bubble level to their often-imitated-never-duplicated Gorillapod.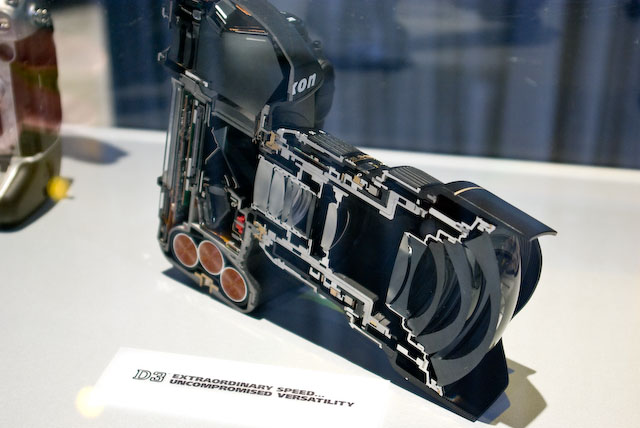 Ever wonder what a Nikon D3 looks like cut in half? Wonder no more!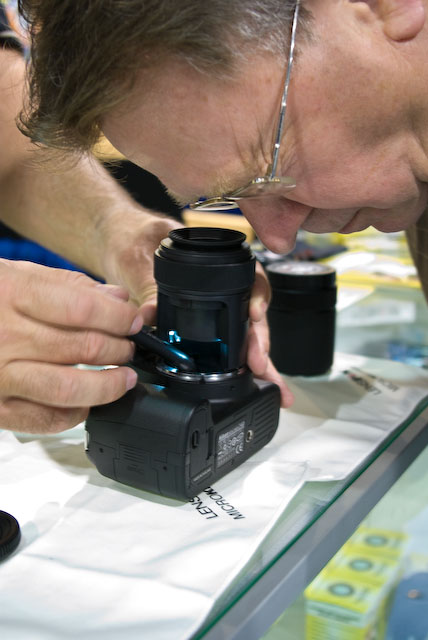 The LensPen people have come up with a nifty little sensor cleaning accessory the SensorKlear Loupe. At $60 I still think it's a bit pricey for a magnifying glass + LED flashlight but it does feature a nifty slot in the side so you can reach in with your LensPen to get that pesky last speck of dust while you're using the scope.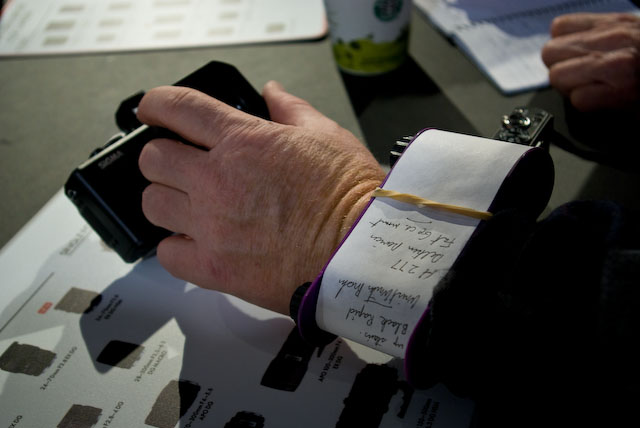 Not technically a photo product (nor a product on display) but I spied this "Wrist Writer" product on a guest at the Sigma booth. It features 25′ of paper on a spool that can be manually advanced to keep a running logbook of shot notes while in the field. I recommend field use as it is pretty incredibly dorky for anything where you might encounter other people ;-)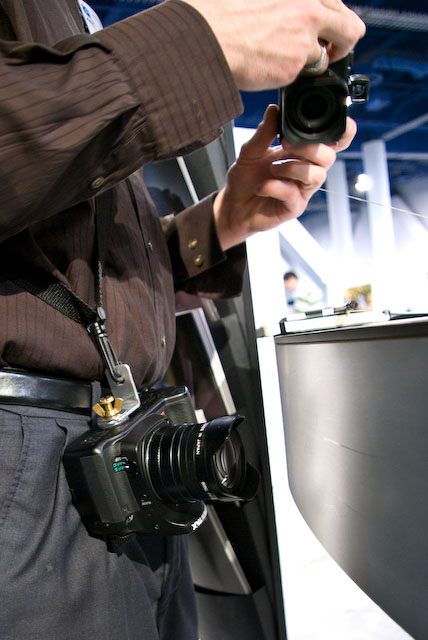 Also while in the Sigma booth a snapped this shot of a fellow Pentaxian's DIY BlackRapid R-Strap. More on that later. I'm digging the 31 f/1.8 Limited lens, though.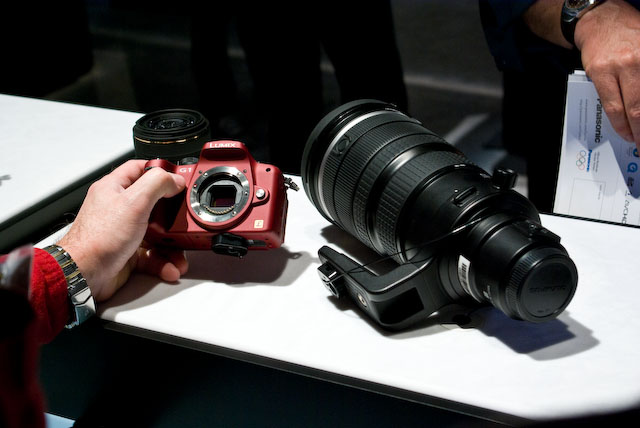 I know I said I wasn't going to blog about the mainstream products but I had to take a look at Panasonic's new G1 while I was there. I find these new small form factor DSLRs quite interesting. Unfortunately, this photo illustrates the problem I have with this whole concept. Why would I want to bolt such a nice tidy little camera to such a huge lens? I mean isn't the whole idea to have a smaller camera system?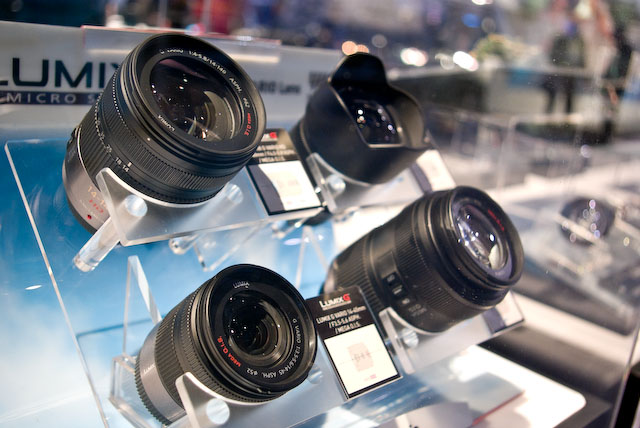 Investigating further I uncovered the other problem with this system. Above is the complete collection of compact lenses for the G1. Clever concept but too limiting for enthusiast use IMO.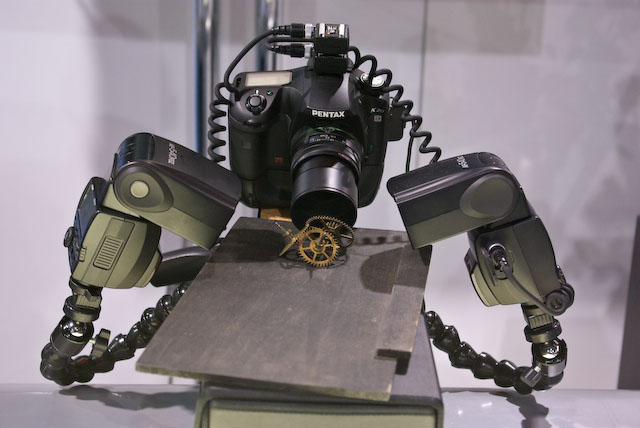 Naturally, I spent much time in the Pentax booth. They had a very interesting macro photography demonstration set up on display.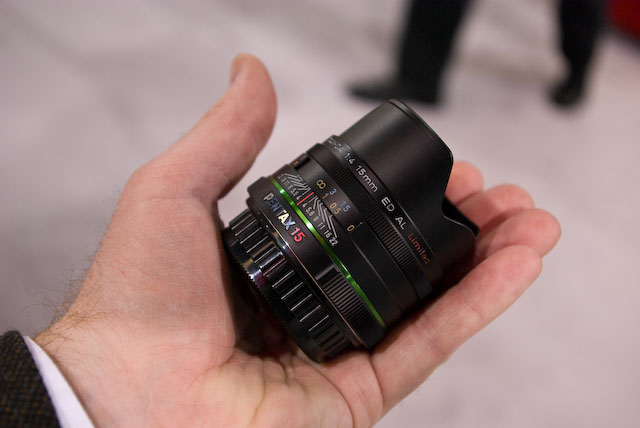 I also spent a little time with their new smc DA 15mm f/4 ED AL Limited wide angle lens. This is an absolute jewel of a little lens. I couldn't tell much about the image quality from the few test shots I took on the show floor, but the thing just felt so nice that I know it will do well ;-)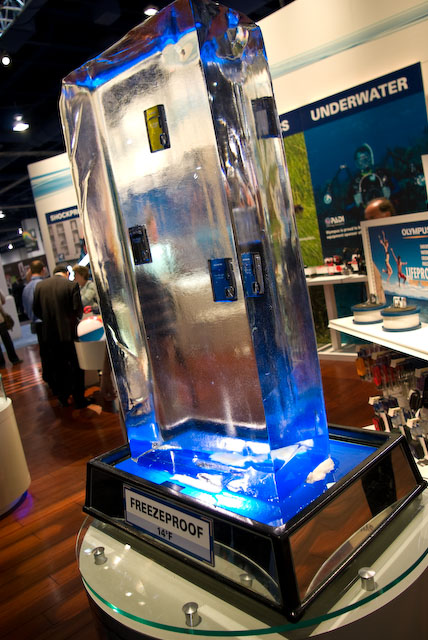 Olympus had a very clever display for one of their ruggedized pocket cams. They were frozen in a solid block of ice. I presume at some point they will remove them from the ice and prove that they still work…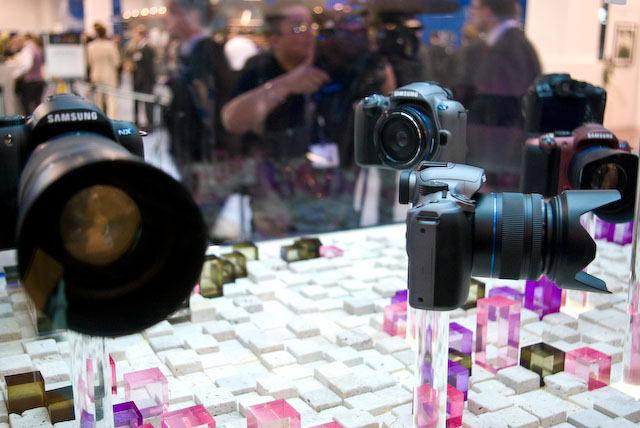 Samsung has arguably gotten the most attention at this year's show with their new NX compact APS-C sized DSLR. This photo answers the question of whether or not there will be multiple lens options available for this camera. I like the little pancake lens but I refer back to my Panasonic G1 comments otherwise. Samsung says this camera "bridges the gap" between compact pocket cameras and full-sized DSLRs. Sounds to me like a compromise situation where no one wins.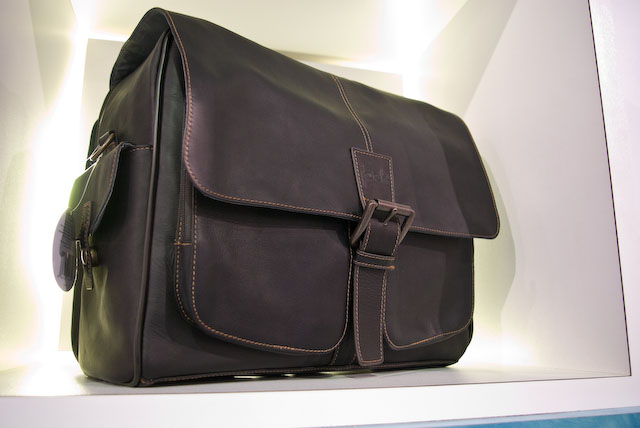 Jill-e debuted a new line of stylish leather camera bags for men called "Jack". If you don't know Jill-e check them out. They are doing some really nice things with camera bags from a fashion standpoint that I haven't seen before.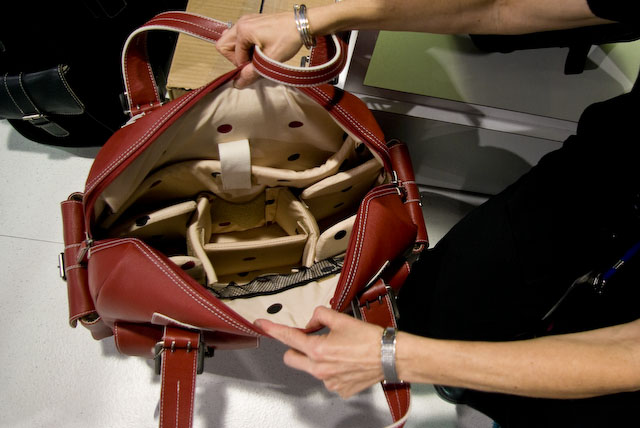 Here's another Jill-e bag design featuring a highly functional "gatemouth"-style opening that makes getting at your gear while wearing the bag much easier. This proves that Jill-e is thinking beyond just style.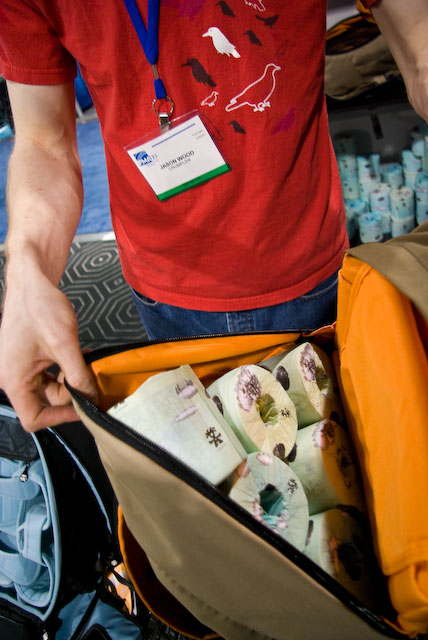 Next I visited the Crumpler booth where they were stuffing their bags with toilet paper (?). I complained about the difficulty of accessing my gear due to their universal use of a flap-over design and was told in no uncertain terms that Crumpler "always puts style above functionality." Hmmmm.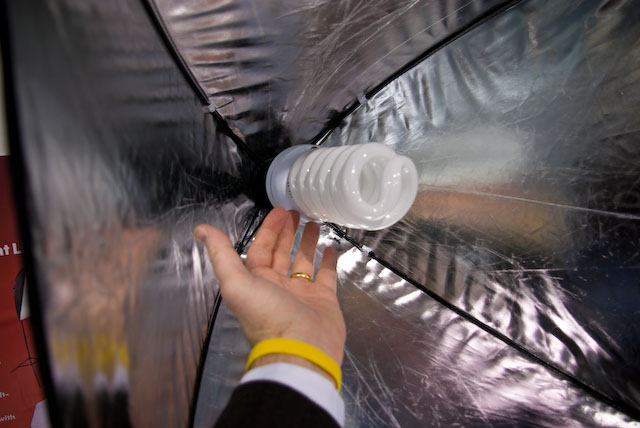 For you studio lighting types I'm here to report that CFLs are now all the rage. This one has the output of a 250w incandescent lamp but outputs almost no heat and lasts 10K hours.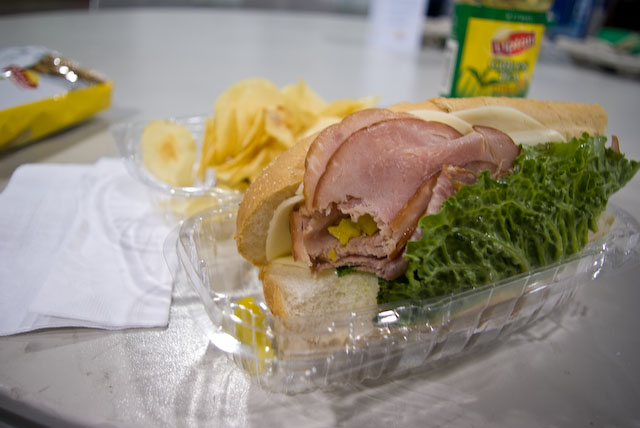 Lunch break: $13.85.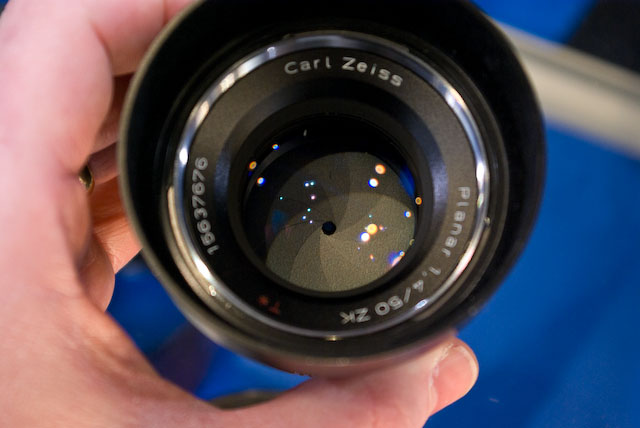 Zeiss Pentax mount 50 f/1.4: $550 MSRP. This could be the ultimate bokeh tool. I took a few sample shots and was immediately blown away by the complete lack of vignetting. I'm planning on getting a review sample or two to do a more in-depth analysis.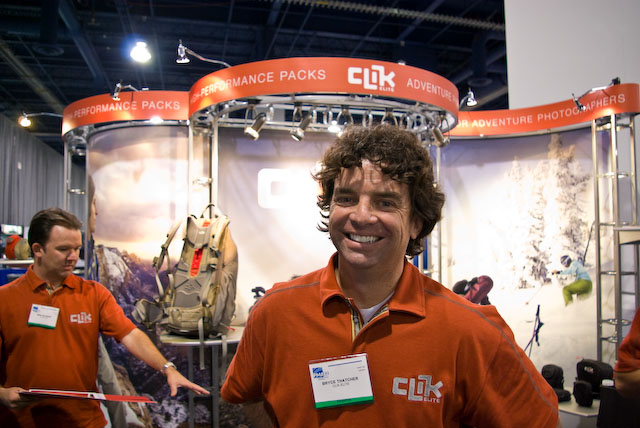 Bryce Thatcher and the crew at Clik Elite had some of the most unique bags I have seen yet at PMA this year. They have a very narrow focus right now on the adventure sports set but I'm told to keep an eye out for some more "mainstream" products that might appeal more to everyday outdoorsy folks like myself. Their first batch of products should be showing up at your local REI store in the next couple of weeks.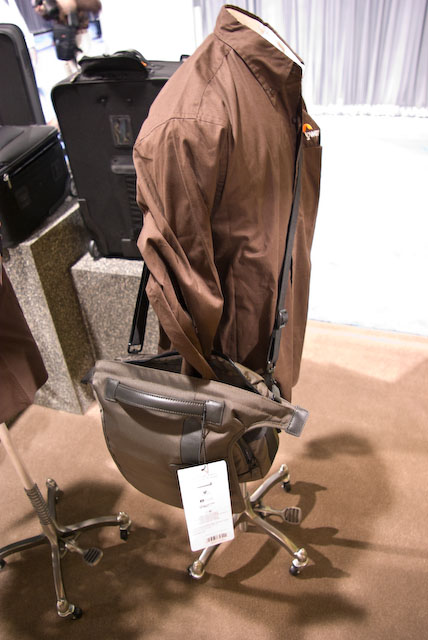 LowePro had a huge collection of bags. The one that caught my eye was their new Classified series of shoulder bags. They feature un-camera bag-like take-it-to-work styling with that gatemouth type opening that makes so much sense to me. My Crumpler may end up in the bottom of the closet for good.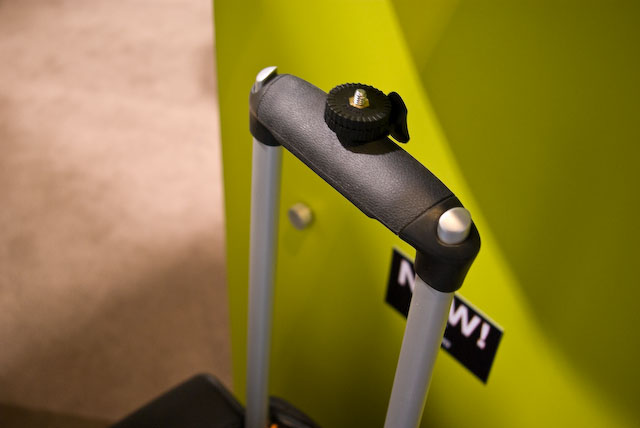 Another clever thing I spotted in the LowePro booth was this camera mount on the handle of their roller bag. Perfect for those airport departure lounge self portraits. I get the sense that LowePro's design staff actually uses (or at least consults with people who use) their products. Lots of clever design features like this that are missing on lesser bags.
This is the Ray Flash ring light accessory. As you can see, it bolts up to your existing external flash unit and re-directs the light to a large ring around the lens. This type of lighting is very popular for portrait photography. I find this to be very clever but am somewhat appalled at the $200 price tag. Pros won't bat an eye at it but us amateurs need a more cost-effective solution. Plus, it seems a little plastic-y for the $$ IMO (though I have not used one yet).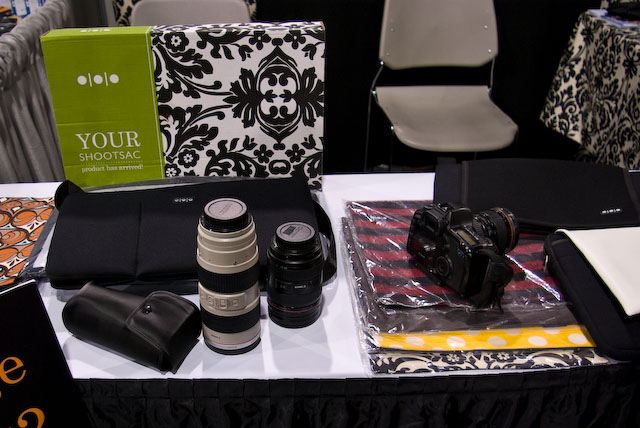 Not a very good picture of a very clever product solution. The Shootsac is a function-specific neoprene shoulder bag with multiple compartments that allow one to keep all their lenses within easy arm's reach. The designer has seen fit to add a fashion component with a bunch of interchangeable covers (none of which I would have chosen). Were I still shooting Canon and had a bunch of L zooms this product would make a lot of sense. As it is, my little Pentax lenses would get lost in there.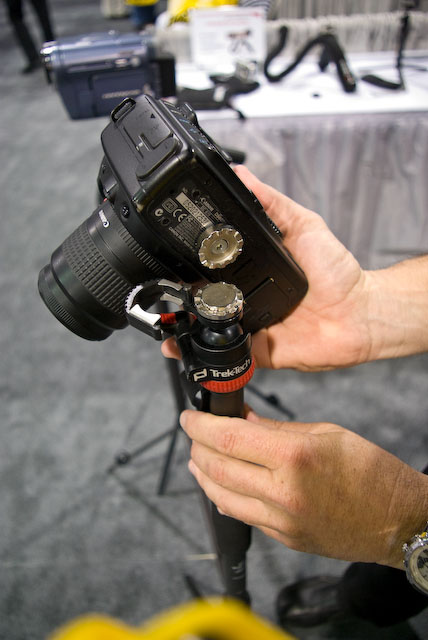 Trek-Tech has some very interesting products all based around a very slick custom magnetic tripod mount (shown above).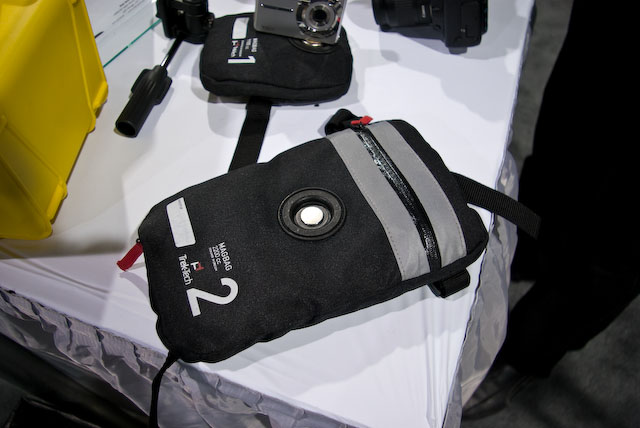 The most interesting Trek-Tech product was their MagBag system. Using the same magnetic tripod mount, the MagBag securely supports your camera beanbag-style. It has a number of other unique features that I hope to go into more detail about at a later date.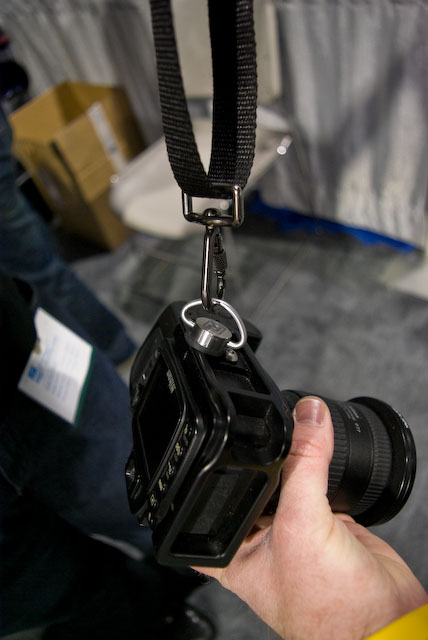 Across the asile from Trek-Tech (and at the far back corner of the exhibit hall) I found Black Rapid's tiny booth. I found their new R-Strap a few weeks ago while doing some camera strap research. From the information I read online I couldn't quite make out how the product worked. I got the fact that you attach the strap to the tripod mount on the bottom of your SLR, but I couldn't see how it would be much better than a regular strap. The main benefit is shown above- the strap stays stationary while the camera slides along the strap on a D ring. I could do without the SWAT-style padded-strap-with-pockets styling, but overall it seems a very clever attempt at a solution to an age-old problem.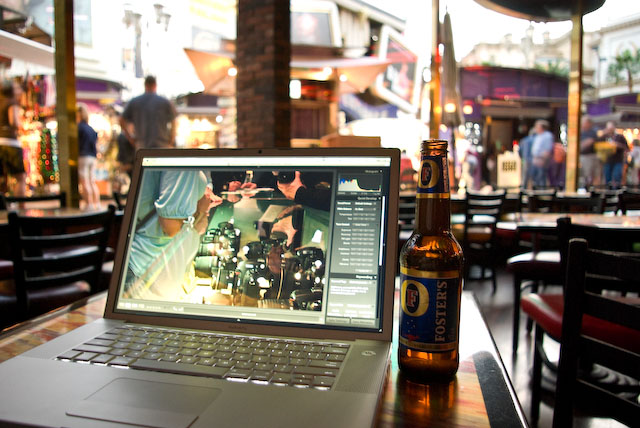 After the show I returned to the hotel to retrieve my laptop and download my pictures from the day while enjoying a cold one.
Then, I treated myself to a table for one at Mon Ami Gabi at Paris for some wine and steak frites :-)
Day 2:
I took another lap of the show floor looking for things I may have missed yesterday.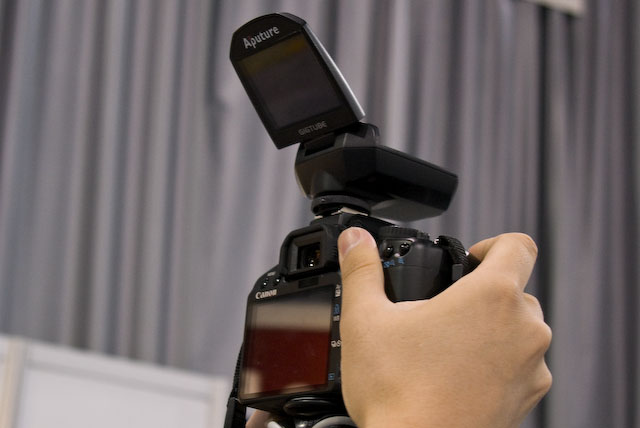 This idea in some form or another showed up in several Asian vendors' booths. The idea is simple: provide a remote display that uses the video out feed from cameras with live view. This version is wired to the camera and features an articulating screen. Others seen on the show floor featured wireless technology to transmit the video signal to a remote release. The basic idea is pretty clever but I have to wonder just how many people really need such a thing (voyeurs not withstanding).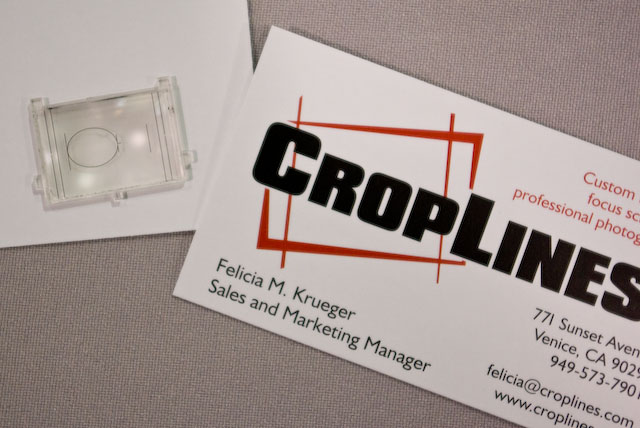 CropLines is a specialty product that adds custom-designed crop lines to focus screens. They're not particularly cheap (close to $200 per screen) but that is mostly due to the degree of handwork required. I'm thinking I could use one with square crop lines. If you print a lot of photos an 8 X 10 crop would also be useful. The focus screen pictured is for standardized studio portraits.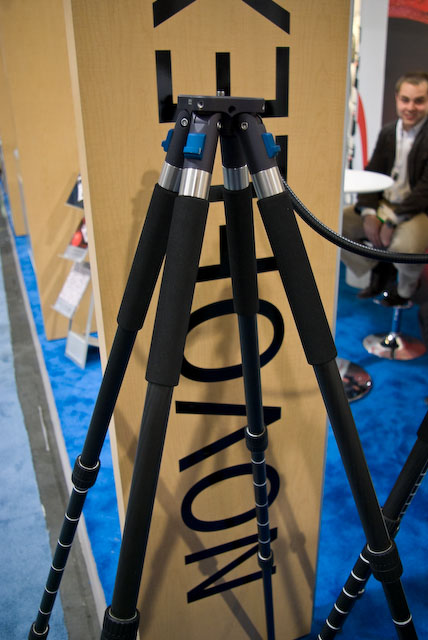 Those wily Germans at Novoflex have one-upped the tripod by adding a fourth leg. They call it the "Quadrapod". Not content with adding an extra leg, they also made the whole thing modular. Each leg screws off to create monopods. Also, additional accessories can be attached to the head mechanism to further expand its usefulness: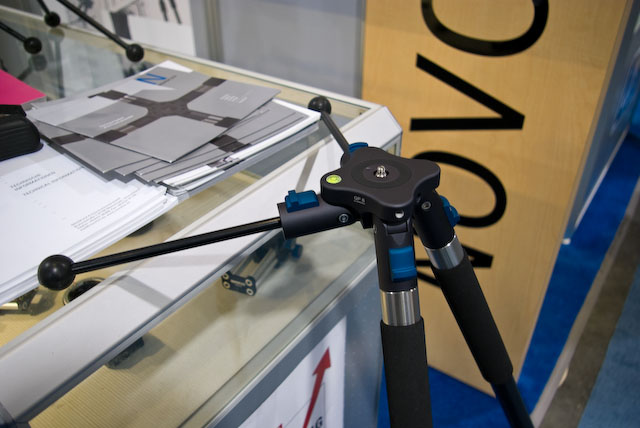 Add two more mini legs and you have a packable table-top quadrapod. Add suction cups…
…and you can stick it to a window. In typical Germanic fashion, the build quality is second to none. I didn't ask how much 'cause if you have to ask…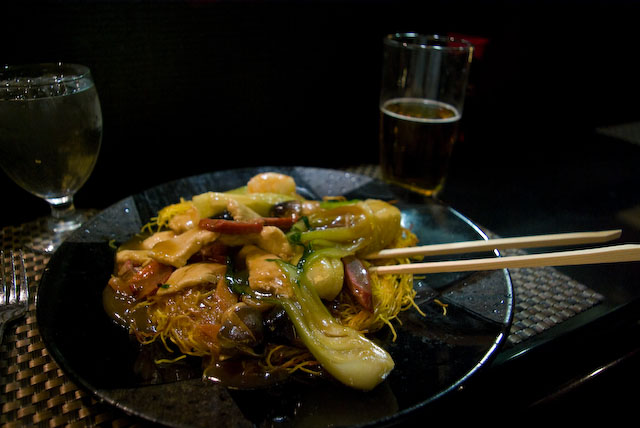 I figured if I was going to spend $15 on lunch I should get my money's worth so I headed over to the Hilton to the Noodle Bar in the back of the Benihana restaurant for some Hong Kong style stir fry noodles.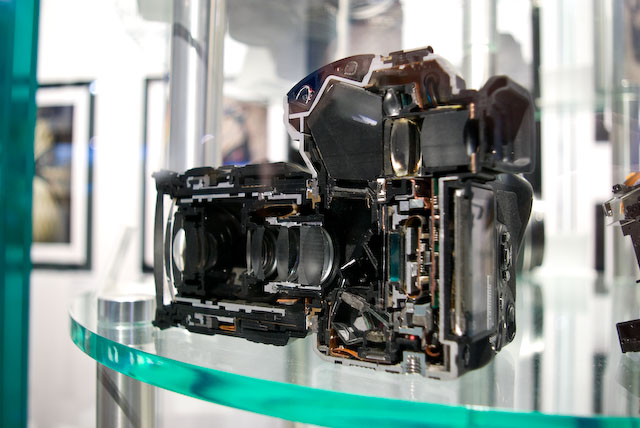 Back to the show and I discovered Olympus' cut-away version of their E3 DSLR. Is it just me or does this look more complicated than the Nikon D3 version from yesterday?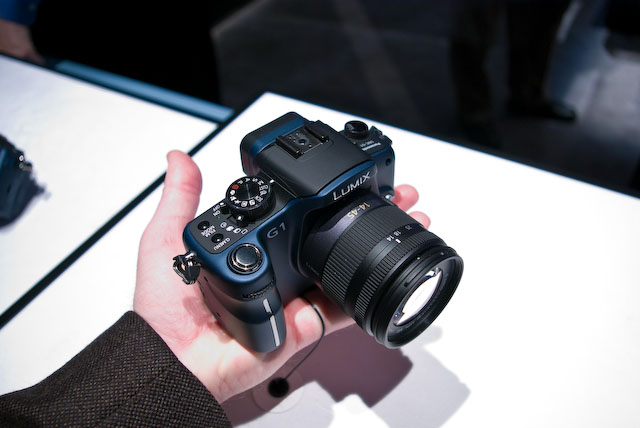 With the crowds dwindling I took a few moments to play with the Panasonic Lumix G1. It is quite a tidy little package though it feels a little on the plasticy side for my tastes. The electronic viewfinder (EVF) is quite strange for someone coming from a true SLR camera. The weirdest part was the fact that the EVF displays the exposure preview just like a PnS (point 'n shoot) camera does. I can see this being sort of useful sometimes but could turn into a real turn-off as the image fluctuates back and forth looking for "proper" exposure. My guess is most users will just use the big LCD display on the pack like a PnS camera. I stand firm in my assertion that this camera (and others like it) are either pocket cameras that are too big to fit in a pocket or DSLRs that are too small to keep up with their larger brethren. BTW, I overheard a Panasonic employee boasting that their were a total of 6 lenses for the G1. Me, I'll just keep carrying a PnS (an old Panasonic Lumix FX-07 actually) in my pocket and a real DSLR around my neck for the time being.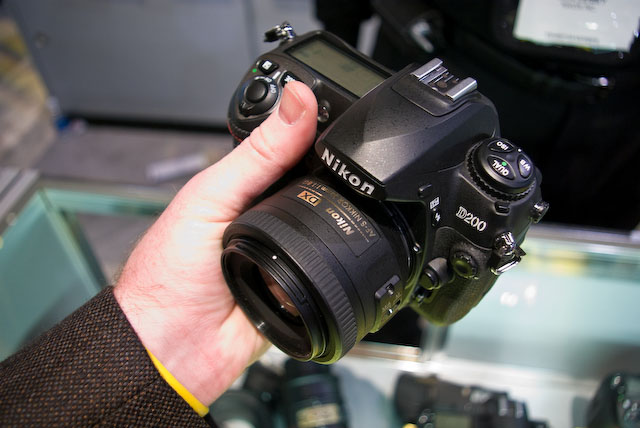 Finally, I wondered back to the Nikon booth to take a look at their new AF-S DX NIKKOR 35mm f/1.8G lens. Obviously, I didn't get to take any sample photos with it but it looks and handles pretty nice. I'm sure at $200 Nikon will sell a ton of these. If you have a Nikon DX format camera (anything other than a D700 or D3) I suggest you look at this lens. Having shot fast fifties on both full frame and DX sensor cameras, I can safely say that a 35mm lens on a DX sensor camera (52.5mm equiv focal length) is much more useful than a 50mm lens (75mm equiv) for everyday use.
Day 3:
PMA 2009 is in the books. All in all it was a pretty lack-luster show for us enthusiasts. Following are a few more product findings, some observations and my conclusions about the show in general.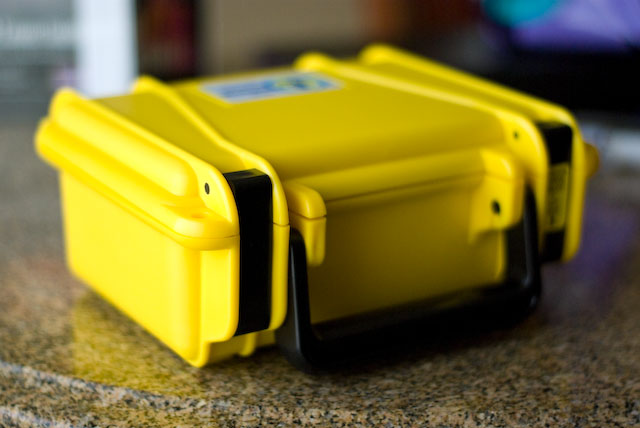 Seahorse's waterproof hard-sided equipment cases have all the features of the bigger brands at less than half the price. If and when I need one of these this will be the brand I'll buy.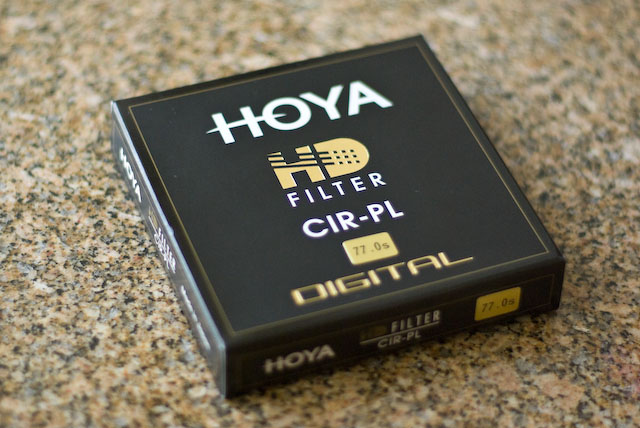 Hoya's new HD filters promise to redifne the filter paradigm. I picked up a 77mm sample for testing. Unfortunately, I don't presently have a lens with a 77mm element. I hear Pentax's 16-50 f/2.8 DA* does…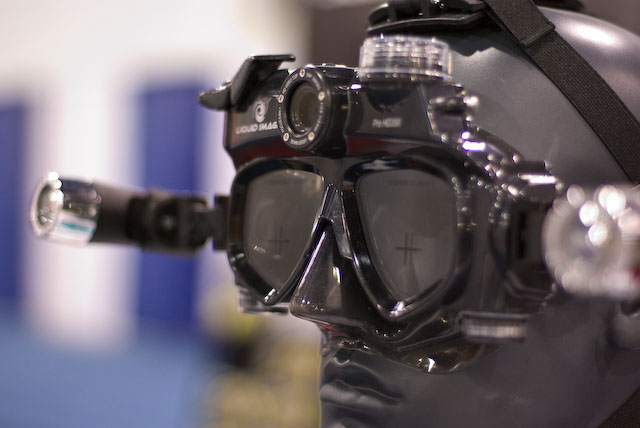 Liquid Image's scuba mask digital camera may look pretty retarded but it's actually a one of the more clever ideas at the show. As a former certified scuba diver I can safely say that, unless underwater photography is your profession, a dedicated cost-effective solution like this makes a lot of sense. (Have you priced underwater DSLR housings lately?) The hands-free design is quite ingenious for sport divers as it eleimnates the usual fumbling with underwater cases. I get the idea behind the mask-mounted lights, but if it were me I'd pass on them and just carry an old fashioned hand-held dive light for those deep water shots.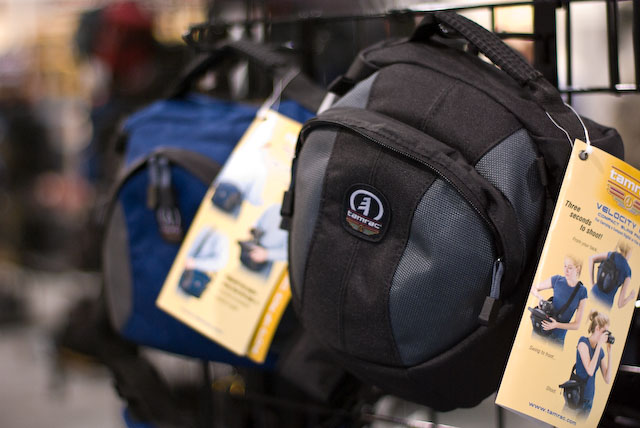 Note to Tamrac: hire a design firm. Your bags are u-g-l-y!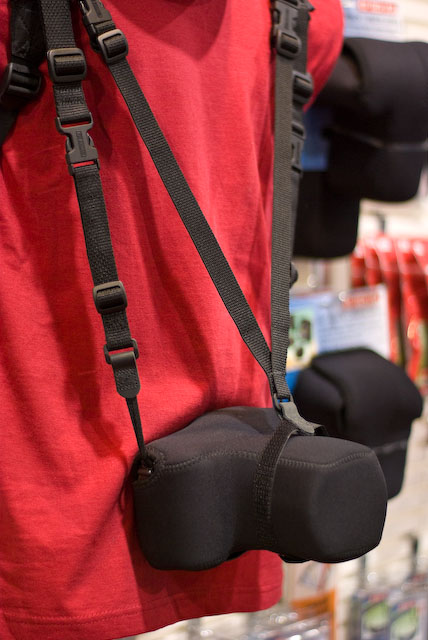 "So you won't look like a tourist." I'm told that this OP/TECH neoprene camera cover is easy-on/easy-off. This looks to me like some kind of combination ED and S&M/bondage product.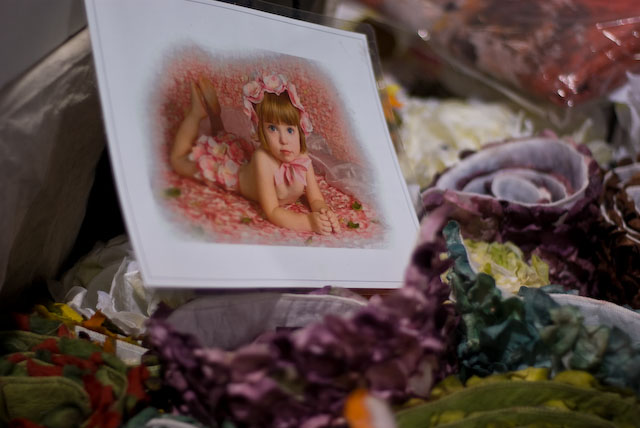 (no comment)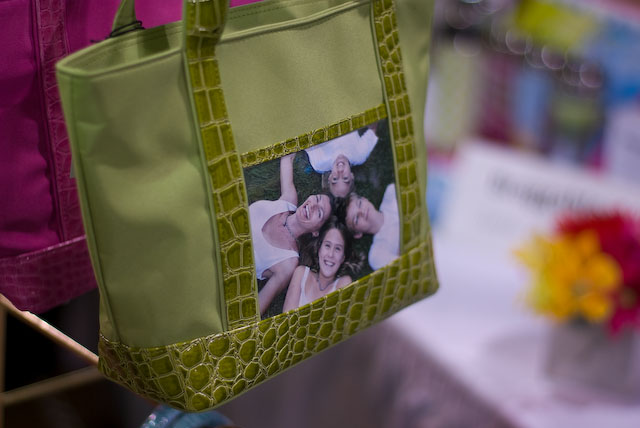 Ladies, why confine your scrapbooking to dusty old books destined for life on a bookshelf? Why not carry your photos with you proudly displayed for everyone to see? Actually, now that I think of it, Braggables might be on to something. Louis Vuitton has got nothing on my girls.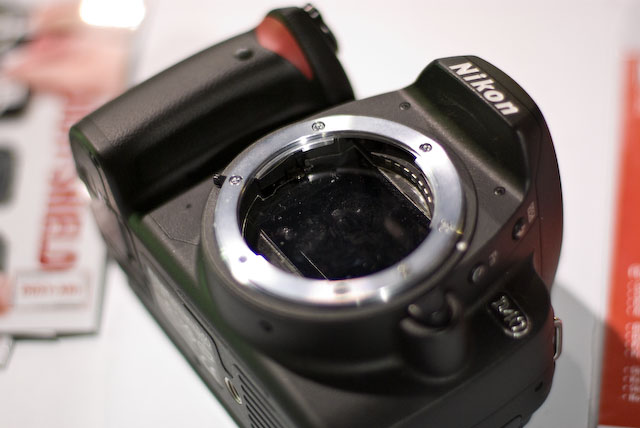 Dust-Aid got a lot of attention for their new clear plastic film mirror box/sensor covers. I agree with them that their product could be an ideal solution for pros heading out on safari, but am skeptical about amateurs dropping $20 a pop for something this fragile.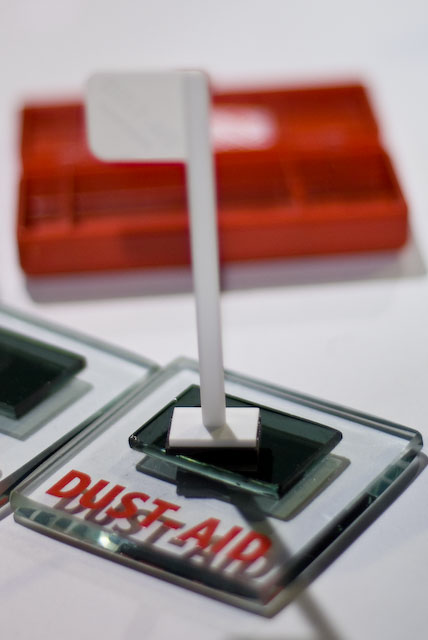 A better $20 solution from Dust-Aid is their Dust-Aid Classic product. It features a special silicone pad that simply lifts dust off the sensor. This seems like such a better idea than just blowing dust around inside the mirror box where it's likely to just end up back on the sensor.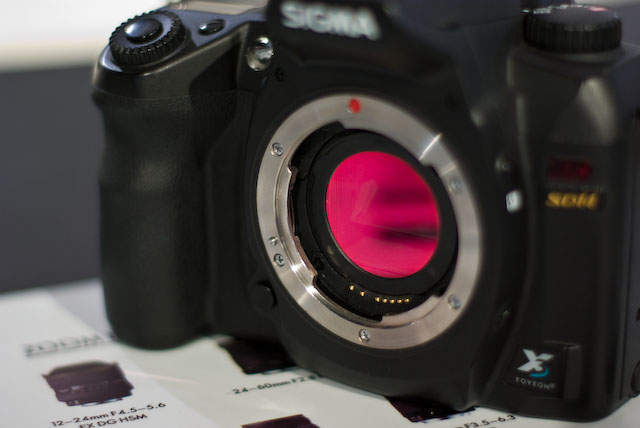 By the way, Sigma has been sealing their mirror boxes for a while now. Why doesn't anyone else do this?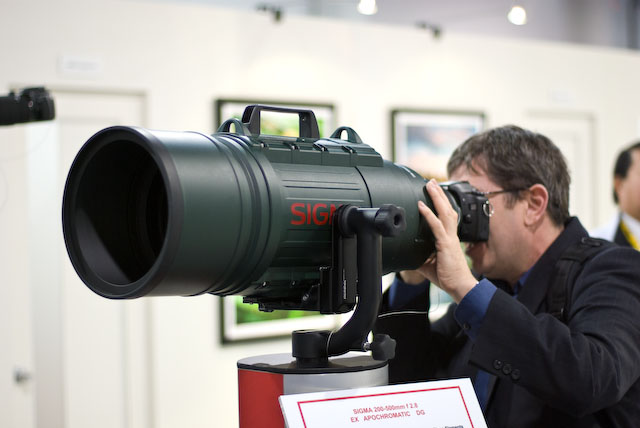 Speaking of Sigma. Check out their 200-500 f/2.8 EX APO DG lens they had hiding around the side of their booth.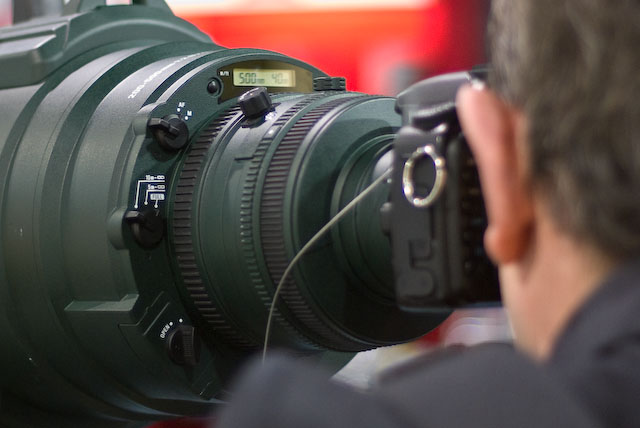 According to Sigma: "For the convenience of the photographer, focusing distances and focal lengths can be viewed on the lens' built-in LCD panel." That's nice. Unfortunately, the $34,000 price tag does not include the stand needed to support this beast- you know, for the convenience of the photographer and all…
This bothers me somehow.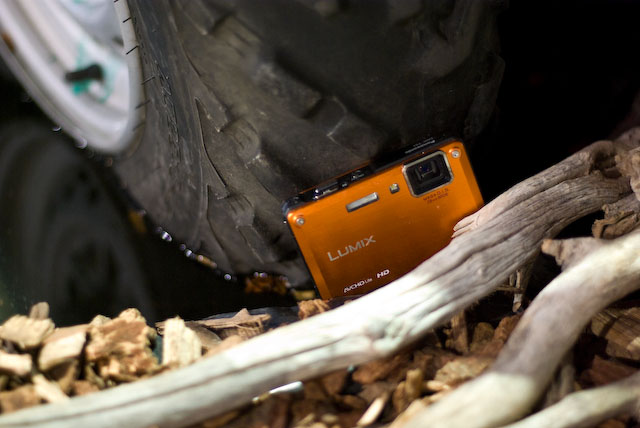 What exactly is it that Panasonic thinks we will be doing with their cameras?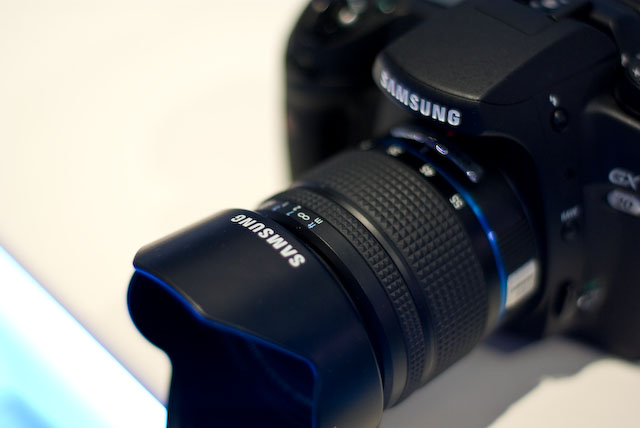 I found it somewhat ironic that focus and zoom rings on Samsung's versions of the Pentax lenses are a closer design match to Pentax's old lenses than their new ones (old on the right, new in the middle and on the left):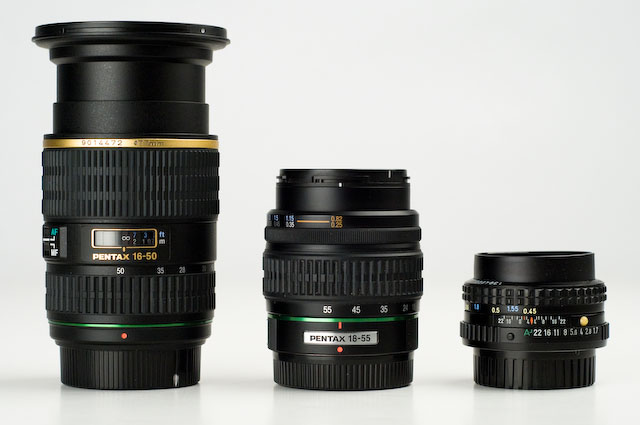 In Conclusion:
In my opinion the digital camera industry has reached a critical development point. Today's cameras have made wonderful photography accessible to the masses. However, all the bells and whistles modern cameras now feature are making it harder for novice photographers to actually learn photography. It used to be that entry-level photographers would start off their learning experience with a fully manual 35mm SLR and then step up to more feature rich products as they developed their photographic skill and better understood how to make the most of the extra features. Today's entry-level DSLRs have basically all the same features as the most advanced professional models. The problem is that, in an effort to make the entry-level cameras more approachable, even some of the most basic shooting settings are buried in a menu system and overridden by automatic settings. What has been lost is that critical connection between the photographer, the camera and the exposure triangle (aperture, shutter speed & ISO). The result is that there are more and more people running around taking pictures with fancy cameras who have no idea why their pictures turn out the way they do. The problem is that they often quickly become frustrated when they realize there's no creative preset for every type of picture they want to take. I have yet to see a "bokeh" preset for example. The solution that the camera industry seems to provide is new cameras with even more features. What I would like to see is the camera manufacturers use technology to build a camera with only the features that actually help people take better pictures while becoming better photographers. As an experienced product designer this is what I would do if given the chance:
Put the aperture control ring back at the base of the lens but make it a "by wire" system that keeps the aperture open to maintain a bright viewfinder for composing the shot while providing feedback in the viewfinder. "A" setting provides automatic control.
Dedicate a thumbwheel to shutter speed and index it so that it has dedicated and marked shutter speed stops like manual film cameras do. Again, provide digital feedback in the viewfinder and include an "A" setting.
Dedicate a second dial to ISO control with similar feedback and an "A" setting. ISO range from 100 up to a usable 32,000 as seen on the the latest high end DSLRs.
Include a front control dial dedicated to exposure compensation. Allow changes to steps and direction via the menu.
Loose multi-point AF and just make the center focus point work damn well all the time.
No built-in flash. Hot shoe mount only.
Use the space saved by deleting the flash to make the viewfinder bigger, brighter and have 100% coverage.
Dedicated on/off switch around the the shutter release button- not hidden on the back of the camera.
In-body sensor shift image stabilization with auto-override for stabilized lenses.
Simple multi-position switches for auto-focus and metering modes.
Dedicated image review buttons (play, delete, zoom, info, navigation, etc.)
Simplified menu structure- don't waste space on things that don't help take pictures like "slideshow" and "creative effects."
Include a dedicated B&W shooting mode (even for RAW). There's something about knowing you're shooting in B&W that causes you to look at composition differently.
Maybe even make it a dedicated RAW format camera- sort of like shooting film you're going to process yourself.
Move the top-mounted LCD screen to a dedicated screen on the back (like Canon did on the original Digital Rebel) and don't clutter up a whole 3″ LCD with graphics and too much information.
Make it super responsive (menus, start-up, review, shutter lag, etc.) and fast (5+ frames per second).
Wrap the whole thing in a mid-sized rugged metal weather sealed chassis.
Include modular different sized rubber grip inserts to allow a custom fit to all hand sizes. Or perhaps you can go without a grip if you prefer.
Price it all under $500 and bundle it with a 50mm f/1.8 (or faster) equivalent lens while making it compatible with all full frame and APS-C sized lenses offered by the manufacturer.
The interesting thing is that most of these features are already being done or have been done on one camera or another. Maybe if one of the big brands decides to follow my advice we'll have something a bit more interesting to talk about next year. Something that reconnects the photographer with the camera and the whole photographic experience. Perhaps if I can find some free time I'll mock-up a 3D CAD model to explore my ideas…