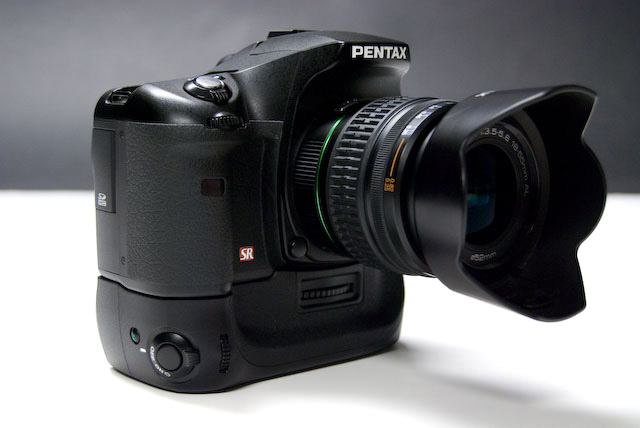 The photos for this review were hastily shot with a borrowed Nikon D40. Some of the shots were taken left handed and upside down. I apologize in advance for any lackluster image quality ;-)

I have typically resisted battery grips for my DSLRs because I felt that they weren't worth the extra bulk. There have only been a half dozen times in my the past 5 or 6 years that I actually drained a fresh battery while shooting. Even then, I just pulled a back-up battery out of my bag/pocket and kept on shooting. My K10D routinely gets 200-300 shots out of a charge so I haven't even bothered to pick up an extra battery. After playing around with a Nikon D3 and a Canon 1D Mark III (both cameras with built-in vertical grips) I was struck by how much better these cameras felt in my hand- despite their heavier weight. In preparation for heading out to the PMA show I decided to pick up an extra battery. While I was shopping I discovered Cameta had a deal on Amazon for a BG2 battery grip + extra no-name battery for $139.95. This meant if I bought the grip I'd get the battery essentially for free. So I took the plunge. Here's what I discovered:
Pros:
Vastly improves ergonomics, balance and stability of the camera.
Extra battery equals more shots between charges.
Ability to designate grip battery as the primary battery so it depletes first- leaving the in-camera battery as a back-up.
Redundant controls for vertical shooting.
Solid OEM build quality (weather sealed, too).
Does not require removal of in-camera battery and battery door like some grips do.
Nifty storage slots for extra SD card and Pentax IR remote.
Makes camera look more "significant".
Cons:
Added weight (11oz).
Added bulk (may not fit in many bags).
Redundant controls are not placed identically to camera controls and do not function as well.
Tripod screw mount takes a few seconds to engage/disengage.
Vertical grip not as substantial as regular grip.
No AA battery option.
Conclusion:
Having used the grip for three days of walking around the Las Vegas Convention Center and a couple of days worth of my normal routine I can safely say that this is the best accessory I have purchased for my camera. Surprisingly, it's not because of the extra battery life. The main advantage of the battery grip for me is the dramatic improvement in the ergonomics and handling of the camera. If you own a Pentax DSLR you owe it to yourself to pick one of these up (the K200D uses the BG3 grip). The improvements it makes are easily worth the $130. I actually believe that this is one of the only accessories that I have tried that can actually help improve the quality of your photographs by making the camera a more natural extension of your hand. If you have another brand of camera I can only assume that their battery grips will provide a similar improvement in the handling of your camera (though some are a bit more fussy to work with).
On to the pictures and details… More »