Designing Green 2009
Pentax K10D, SMC PENTAX-DA f/3.5-5.6 18-55mm AL @ 18mm, ISO 160, f/4, 1/30 sec, +1 EV, IS on
Read all about Auburn University's Department of Industrial and Graphic Design's annual Designing Green competition on my personal blog.
Designed by Aran Mun, the hand-made laser cut cardboard trophy above was shot in a simple whitespace studio with a single incandescent bulb behind a white umbrella diffuser (reversed from the set-up shown below):
RAW file processed in Adobe Lightroom to correct white balance and tweak the exposure slightly. I shot another version at f/8…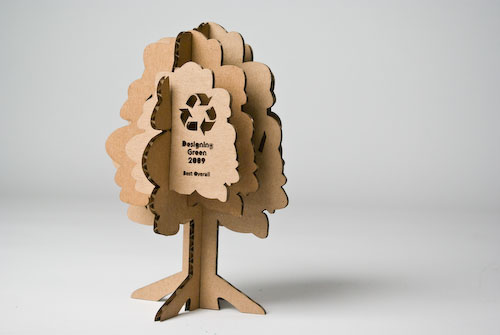 …but I preferred the way the vignetting and shallower DoF in the f/4 shot really adds depth to the photograph and focuses your attention on the logo. Best thing about having access to a studio like this is that the total time to set up for this shot and snap the four frames I took was less than 2 minutes!
Click here if you're just interrested in seeing all the photos I took during the event.