PMA '09 day 2 report
Day 2 I took another lap of the show floor looking for things I may have missed yesterday. Click through to see what I found.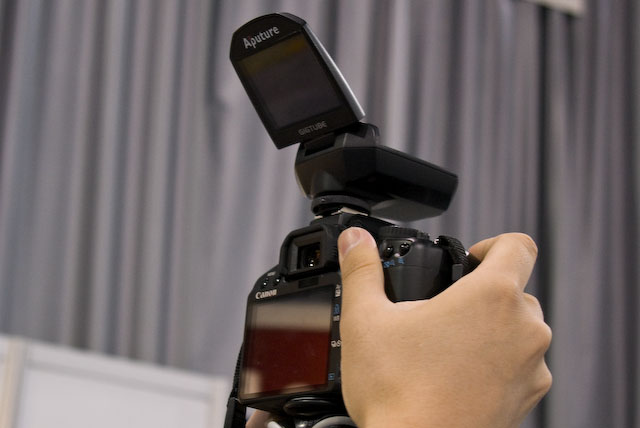 This idea in some form or another showed up in several Asian vendors' booths. The idea is simple: provide a remote display that uses the video out feed from cameras with live view. This version is wired to the camera and features an articulating screen. Others seen on the show floor featured wireless technology to transmit the video signal to a remote release. The basic idea is pretty clever but I have to wonder just how many people really need such a thing (voyeurs not withstanding).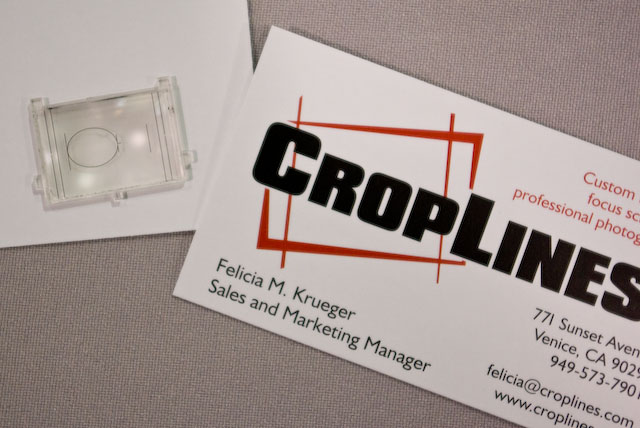 CropLines is a specialty product that adds custom-designed crop lines to focus screens. They're not particularly cheap (close to $200 per screen) but that is mostly due to the degree of handwork required. I'm thinking I could use one with square crop lines. If you print a lot of photos an 8 X 10 crop would also be useful. The focus screen pictured is for standardized studio portraits.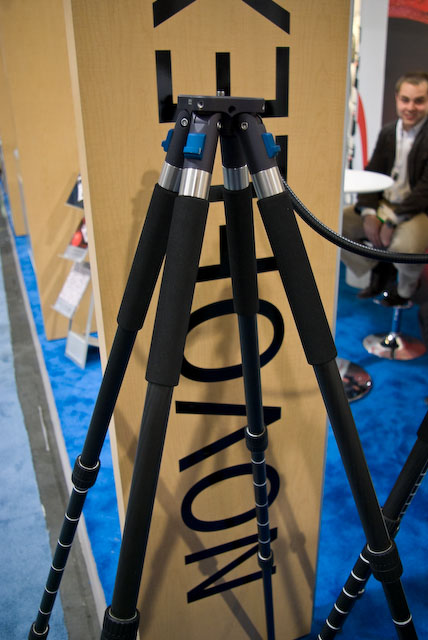 Those wily Germans at Novoflex have one-upped the tripod by adding a fourth leg. They call it the "Quadrapod". Not content with adding an extra leg, they also made the whole thing modular. Each leg screws off to create monopods. Also, additional accessories can be attached to the head mechanism to further expand its usefulness: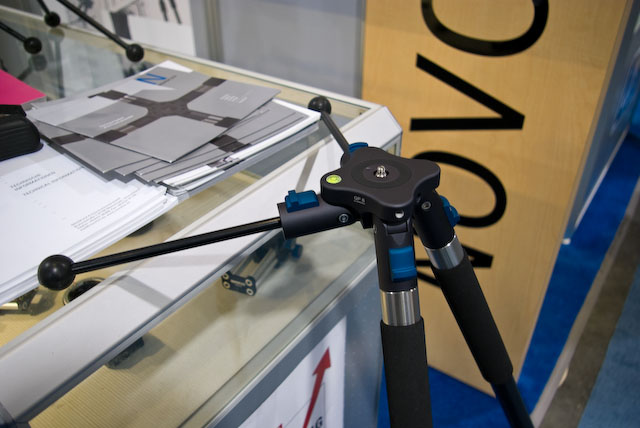 Add two more mini legs and you have a packable table-top quadrapod. Add suction cups…
…and you can stick it to a window. In typical Germanic fashion, the build quality is second to none. I didn't ask how much 'cause if you have to ask…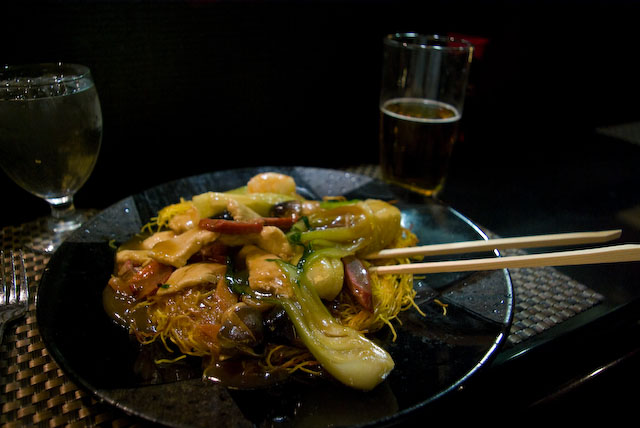 I figured if I was going to spend $15 on lunch I should get my money's worth so I headed over to the Hilton to the Noodle Bar in the back of the Benihana restaurant for some Hong Kong style stir fry noodles.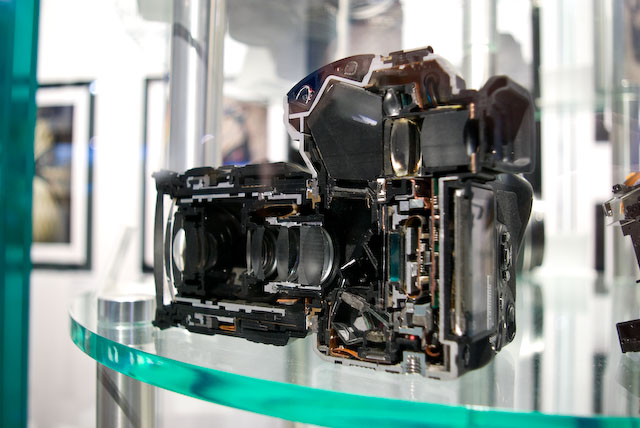 Back to the show and I discovered Olympus' cut-away version of their E3 DSLR. Is it just me or does this look more complicated than the Nikon D3 version from yesterday?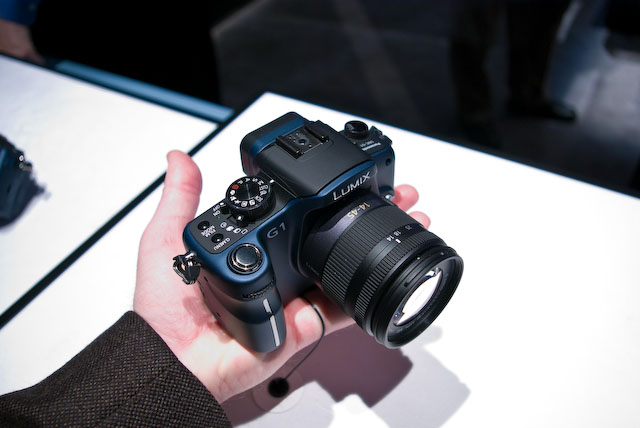 With the crowds dwindling I took a few moments to play with the Panasonic Lumix G1. It is quite a tidy little package though it feels a little on the plasticy side for my tastes. The electronic viewfinder (EVF) is quite strange for someone coming from a true SLR camera. The weirdest part was the fact that the EVF displays the exposure preview just like a PnS (point 'n shoot) camera does. I can see this being sort of useful sometimes but could turn into a real turn-off as the image fluctuates back and forth looking for "proper" exposure. My guess is most users will just use the big LCD display on the pack like a PnS camera. I stand firm in my assertion that this camera (and others like it) are either pocket cameras that are too big to fit in a pocket or DSLRs that are too small to keep up with their larger brethren. BTW, I overheard a Panasonic employee boasting that their were a total of 6 lenses for the G1. Me, I'll just keep carrying a PnS (an old Panasonic Lumix FX-07 actually) in my pocket and a real DSLR around my neck for the time being.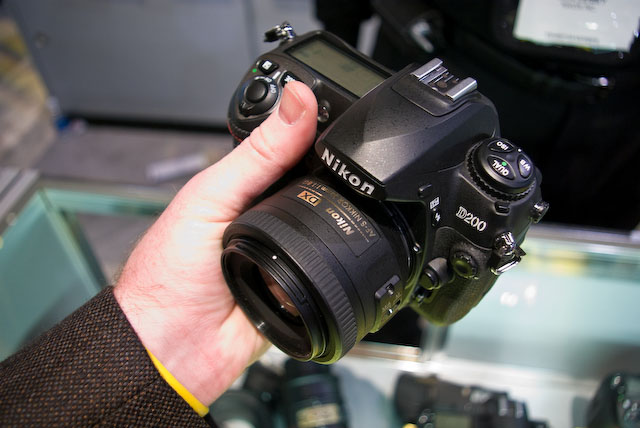 Finally, I wondered back to the Nikon booth to take a look at their new AF-S DX NIKKOR 35mm f/1.8G lens. Obviously, I didn't get to take any sample photos with it but it looks and handles pretty nice. I'm sure at $200 Nikon will sell a ton of these. If you have a Nikon DX format camera (anything other than a D700 or D3) I suggest you look at this lens. Having shot fast fifties on both full frame and DX sensor cameras, I can safely say that a 35mm lens on a DX sensor camera (52.5mm equiv focal length) is much more useful than a 50mm lens (75mm equiv)  for everyday use.
Tomorrow I'm planning on making one more pass. I wouldn't hold your breath in anticipation of any more great finds.